Baleshwar Agarwal Memorial Lecture
First Baleshwar Agrawal Memorial

Lecture was delivered by India's External Affairs Minister Smt. Sushma Swaraj on 17th July 2014, at India International Centre in which Shri L.K. Advani former Deputy Prime Minister of India was in the Chair. Smt. Sushma Swaraj paid glowing tributes to Shri Baleshwar Agrawal and said how much she missed him. She had the important portfolio of Overseas Indian Affairs and this is a work she could have totally, easily grasped if Baleshwarji was around she said. Baleshwarji's name had become synonymous with Pravasis, he had made ARSP a bridge between Bharat and Bharatvanshis. I miss him a lot, she said. Shri Lal Krishan Advani, former Deputy Prime Minister of India presided over the function. This programme was attended by envoys from Mauritius, Fiji, Guyana, Suriname, Bhutan, Indonesia and Director General of ICCR.
The Second Baleshwar Agrawal Memorial Lecture
was held on 31st October 2015 at New Delhi at NDMC Convention Centre. Hon'ble Sir Anerood Jugnauth, Prime Minister of the Republic of Mauritius delivered the Memorial Lecture. The event was presided by Hon'ble Shri Santosh Kumar Gangwar, Minister of State for Textiles (Independent Charge) with Shri Piyuash Goyal, Minister of State (Independent Charge) for Power, Coal and New and Renewable Energy, Government of India as the Guest of Honour. Shri Shashank President of ARSP and Shri Mukesh Aggarwal, Vice President of ARSP represented ARSP at the event.
On 29th July 2017 3rd Baleshwar Agrawal Memorial Lecture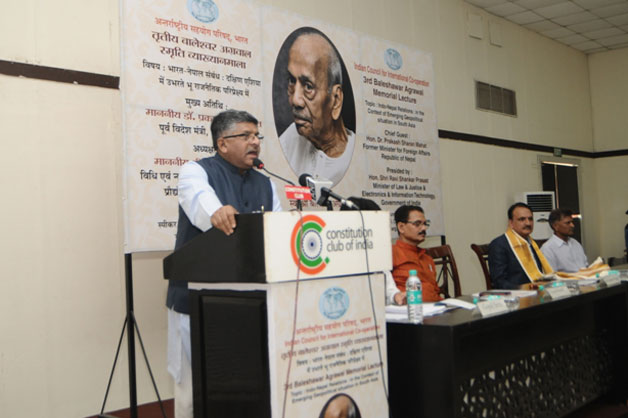 was delivered by Hon'ble Prakash Sharan Mahat former Minister for Foreign Affairs Republic of Nepal on 'Indo-Nepal Relations in the context of Emerging Geopolitical situation in South Asia at Constitution Club New Delhi. Hon'ble Shri Ravi Shankar Prasad, Minister for Law & Justice & Electronic and Information Technology presided over the function.